3.16.2005
3.06.2005
It's going. Slowly.
Well, I have been working on my sweater. Just working on it slowly, that's all. I am about 2/3rds done with the back. I am going to do the sleeves next but I plan on doing them at the same time. That way I know they match and I will do them faster.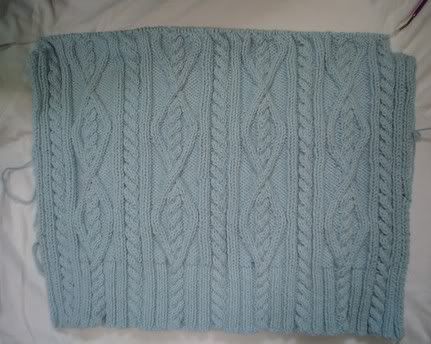 3.04.2005
k9, p2, k8, p1, k8 ..... rrrriiip!
I'm lost in sleeveland.

I've finished the back of my sweater, and was about halfway done on sleeve #1, until late last night when I was putting it away for the day and I realized I forgot to cross one of my cables about halfway down. Thats always fun. I calmly put it to bed, and in the words of Scarlett O'Hara thought... I'll worry about that tomorrow. Which unfortunately is today. Now I have to rip down about 3" of cables and increases to fix the problem. Maybe the fact that I received my new order of yarn yesterday can distract me enough for the weekend to make this little problem a non-issue.

I keep meaning to post a progress pic., but I have to wait til Saturday when I can get a daylight shot that shows the cables. The one I took in roomlight with the flash looks like hell.

Hows everybody else coming along?